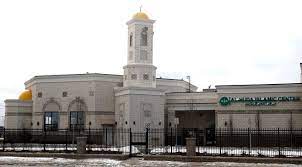 By Yousuf Ali
There was a fire at the Al-Huda Islamic Association in Dearborn on Warren Avenue on Saturday, Feb. 12.  According to the Detroit Free Press, "[p]olice said that early Saturday morning, Dearborn police officers on patrol spotted a fire at Al-Huda Islamic Association, which sits on Warren Avenue in the northeastern section of Dearborn, near the border with Detroit. According to a statement from Dearborn police, the officers then "encountered an armed individual at the scene" of the fire. Police said he "appeared to have shot at the officers."
This was after the suspect was ordered to disarm himself according to the police. The motivation has yet to be ascertained. Additionally, Dearborn Police observed fire at the mosque before anyone called.
In response to the shooting and Arson, Dearborn mayor Abdullah Hammoud praised the police officers in a Facebook post "Here is what we know about the fire and associated shooting events at the Al-Huda Mosque: First and foremost, we do NOT believe there are any imminent threats or dangers to any other houses of worship. The individual responsible for the fire and subsequent shooting acted alone and may have been experiencing a mental health crisis at the time. @DearbornPolice officers on patrol observed the fire before anyone called 911.
As they surveyed the scene, the individual shot at the officers. Despite knowing that the individual was armed, and not knowing what other dangers might emerge, the officers cautiously pursued the individual and attempted repeatedly to get him to relinquish the firearm. The individual fired at the officers again, which prompted return fire that fatally struck him.
This was a tragic situation that resulted in a loss of life.
May God protect our officers who endured extraordinary trauma and put themselves in harm's way to protect the community from imminent harm. May God have mercy on the soul of the deceased, and grant patience to his family and loved ones. And may God grant peace and strength to the Al-Huda mosque community. We stand with you as we overcome this tragedy, and hope to emerge stronger. Moving forward, Detroit Police and MSP will be investigating the details of this incident. Will provide more updates as we are able."