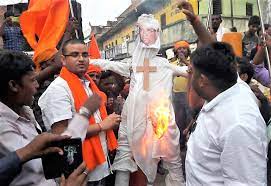 by Dr. Aslam Abdullah 
An American human rights activist is on a hunger strike protesting the persecution of Christians and other minorities in India. Pieter Friedrich is an author, activist, and speaker specializing in South Asian affairs. He writes regularly on human rights, supremacist political ideologies, ethnonationalism, and state-sponsored terrorism. Pieter has lectured at Columbia University, Stanford University, UC Berkeley, UC Los Angeles, Carleton University, and St Stephen's College. He is a staunch advocate for religious liberty and interfaith cooperation; he has spoken at mosques, gurdwaras, churches, and viharas.
The California-based specialist on Hindutva began his seven-day hunger strike on January 5, four days after the government of India denied the charity founded by the Nobel Laureate, Mother Teresa, the permission to receive foreign funds to help the poor and the needy in the country. Christians are under attack, and the Hindutva supporters with allegiance to Indian Prime Minister Modi and his BJP party orchestrated more than 700 organized attacks on Christians during 2020 and 2021, destroying churches and disturbing religious services. On December 25, in several places in states run by the BJP, they burned the effigies of Jesus and invaded Church premises where Christian worshipers were praying. Hindutva groups such as the RSS, Bajrang Dal, the Vishwa Hindu Parishad, and the BJP believe that Christianity is a tool of European and American countries to convert India's lower castes and destroy the upper caste-controlled Hinduism.
Christianity is India's third-largest religion after Hinduism and Islam, with about 27.8 million adherents, constituting 2.3 percent of the population. The faith that came to India in 52 AD in Kerala with Thomas, the Apostle, now has 42 Christian denominations in India, including Catholics, Protestants, Episcopalians, Oriental orthodox, and Latter-Day Saints, with none having a majority within the faith. Christians are in the majority in Nagaland, Mizoram, Meghalaya, Manipur, and Arunachal Pradesh. In addition, they are in significant numbers in Assam, Tripura, Andhra Pradesh, Karnataka, God, Kerala, Tamil Nadu, and Andaman Nicobar Islands. India's Hindutva government has enacted laws against conversion in nine states, fearing an exodus of lower castes to Christianity, Islam, Sikhism, and Buddhism. However, the U.S.-based Pew research recently reported that the fear is imaginary, as Hindus tend to gain more than what they lose through religious switching.
The purpose of the RSS-based campaign is to intimidate Christians and mobilize the Hindu diaspora, especially in America, to fund upper-caste organizations engaged in reconverting Christians to Hinduism. India's Christians are highly religious. The Pew research says that 77 percent of Indian Christians pray daily, 89 percent give regular charities to churches and 78 percent listen to the Bible lectures weekly. Seventy-four percent of Indian Christians identify with lower Dalits and scheduled tribes. Politically, they oppose the ruling BJP for their continued persecution. The three main Hindutva groups, the Bajrang Dal, Rashtriya Swayamsevak Sangh, and the VHP, are behind the attacks on Christians.
The state department described the BD and VHP as Hindu militant groups. The three have a large presence in the US. In its 2020 Country Reports on Human Rights Practices: India, the state department reported that significant human rights violations occur in India. They include: unlawful and arbitrary killings, including extrajudicial killings perpetrated by police; torture and cases of cruel, inhuman, or degrading treatment or punishment by some police and prison officials; arbitrary arrest and detention by government authorities; harsh and life-threatening prison conditions; political prisoners or detainees in certain states; restrictions on freedom of expression and the press, including violence, threats of violence, or unjustified arrests or prosecutions against journalists, use of criminal libel laws to prosecute social media speech, censorship, and site blocking; overly restrictive rules on nongovernmental organizations; restrictions on political participation; widespread corruption at all levels in the government; lack of investigation of and accountability for violence against women; tolerance of violations of religious freedom; crimes involving violence and discrimination targeting members of minority groups including women based on religious affiliation or social status ; and forced and compulsory child labor, as well as bonded labor. Pieter's hunger strike is to sanctify the life of all human beings in India.
In addition, it highlights the need for swift action against militant organizations active in the US and using the resources to fund violent activities in India.