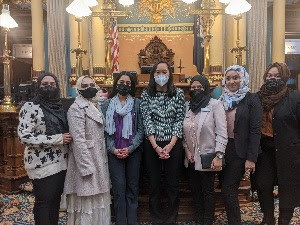 by APIA Vote – MI
On January 27, a resolution to recognize World Hijab Day in Michigan was passed as a result of the hard work put in by APIA Vote-MI, community members and legislator Senator Stephanie Chang. Executive Director, Rebeka Islam worked with Michigan Senator Chang to bring the resolution forward. 
"It was an honor to recognize APIA Vote-MI Director Rebeka Islam, her family and a group of visitors who accompanied her to Lansing for the World Hijab Day resolution introduced by my co-chair of the APA Caucus, Senator Chang, and even nicer to visit with them in the House gallery," says Rep. Padma Kuppa
In step with New York City's tenth year of honoring this day, the Michigan Senate proclaims February 1 as World Hijab Day. We, the people of Michigan, shall come together on February 1, 2022 to recognize a day of solidarity with, and respect for, our Muslim sisters.
The Hijab is a traditional veil which covers a woman's hair and chest, signifying the sacredness of and respect for women's bodies, as well as respect for religious faith. 
This day of unity was created by Nazma Khan, meant to encourage non-Muslim women to embrace the Hijab and promote religious tolerance, cultural competency and solidarity on an international level. 
We are invited to share in this religious practice to show support for our community of Muslim women, and create long-lasting connections that combat prejudice. Wearing the Hijab is a choice, a freedom, and a blessing— a message that leaders in the American Muslim community have tirelessly worked to convey. 
We believe it is one of America's greatest strengths to embrace different cultures and faiths, allowing citizens to freely express themselves. It is our hope that our community comes together on February 1 and embraces the Hijab as this symbol of unity and strength. 
"This is a day to recognize the millions of Muslim women around the world who choose to wear the Hijab and live a life of modesty. It's also an open invitation to women of all walks of life to wear a Hijab and stand in solidarity with Muslim women," says Sen. Stephanie Chang.
Culture and faith is meant to be shared, to educate each other and understand one another. World Hijab Day calls for a universal understanding of Islamic faith and practices, and to develop a stronger communal bond within our society. 
APIA Vote-MI and several Michigan legislators will be joining organizations and activists throughout the world during a virtual celebration on February 1, 2022, to celebrate World Hijab Day.